Now, let's discuss how you want to ship your car to Cameroon.
There are two shipping options available :
Shipping

cars

in

containers

is a

popular

way

of

importing

cars

into

Cameroon. If

you

can't

ship

with

a

full

load

, that's no problem.
With LCL (Groupage),

you

have

the

option

to be

packed

in

one

container

with

other

shippers. This is a

safe

method

of car shipping,

especially

if

you

work

with

a

knowledgeable

agent like RANDY LOGISTICS, as an

improperly

loaded

car

can

cause

unnecessary

expense

and

damage, Which is what you wanted to avoid in the first place
.
On

the

other

hand

, RoRo shipment (Rolled on – Rolled off) is

the

cheapest

way

to

ship

a car to Cameroon. With RoRo,

the

car is

driven

on

board

at

the

port

of

departure

. At

the

port

of

destination

,

the

car

was

driven

overboard. While

this

method

is

cheap

, it

leaves

your

car

unprotected

while

the

ship

is on

its

way

to

its

destination

port.
So let's

say

the

car you're shipping is a Toyota Blade. Using RoRo, shipping

this

car

from

Germany to Cameroon

will

cost

between

450

and

600 Euros.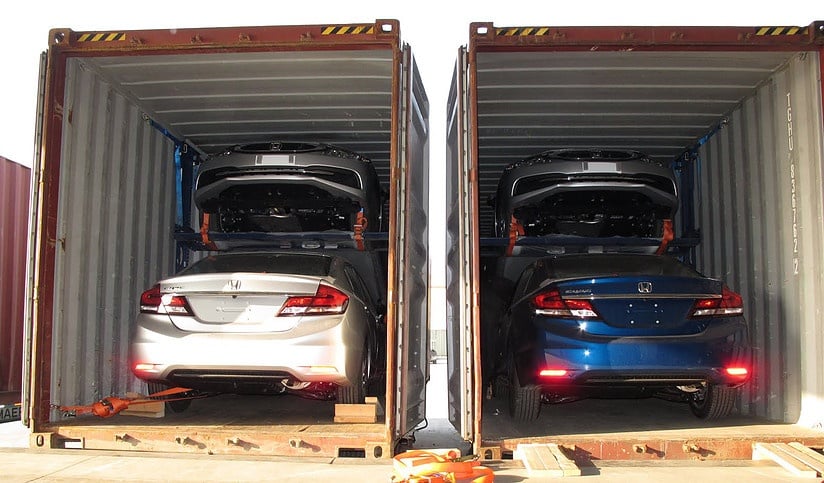 What is Customs Clearance within the process of the project? 
Upon arrival at the Port Autonome de Douala, you'll need to work with a customs clearing agent to sort out customs duty and taxes.
N.B: Custom duty in Cameroon is calculated by multiplying the assessed value or "valeur imposable" (FOB value + Fret) by 91% for cars less than 15 years or 107% for cars older than 15 years.
How do you get the FOB value of a second-hand car from Europe?
To get the FOB value, you'll need to refer to L'argus Magazine. So, before your car arrives, the customs clearing agent will get to work.
The custom clearing agent will get the FOB value from L'argus and add to it the freight from the Bill of lading.
Practical examples of custom duty on a second-hand car from Europe
Let's say you're importing a second-hand Toyota Avensis 126 D-4D FAP Dynamic 4p manufactured in 2010 from Hamburg to Douala. What is the custom duty?
FOB value = XAF 2 184 480
Freight = XAF 350 000
Assessed value = FOB value + Freight (2 184 480 + 350 000 = 2 534 480)
Custom Duty = Assessed value × 0.91 ( 2 534 480 × 0.91 =  XAF 2 306 377)
NB : We applied 91% because  the car is less  than 15 years old.
Let's take another example of a car older than 15 years – the Mercedes Benz Class ML 2006.
FOB value = XAF 2 709 280
Freight = XAF 500 000
Assessed value = 2 709 280 + 500 000 = 3 209 280
Custom Duty = 3209280 × 107% (1.07) = XAF 3 433 929
NB: These are estimations by law. Cars older than 15 years get a higher custom value.  For cars less than five years old, you can negotiate lower than 91% through a custom clearing agent. Also, remember that the FOB value from L'argus Magazine is average. So, based on the experience of your RANDY LOGISTICS as your best custom clearing agent, we know what limit they can reduce your FOB value to. 
Tips on How you can reduce the cost of a second-hand Car 
Buy cheap: As we've seen above, the FOB value of your car is determined by L'argus. So buying cheaper in Germany will save cost. That's why it's important to have an agent in Germany that masters the market and will most importantly evaluate the car physically and negotiate the price.
Buy from a location closer to the port of export, in which case Hamburg or Antwerp.
Work with a knowledgeable custom clearing agent in Cameroon who is willing to help more than make a profit. At the level of customs clearance, there is a lot of work that can be done to reduce the customs duty of a car.
Work with a customs clearing agent who will get you involved in the process.
Avoid giving a full deposit except you trust your agent.
How can we help you?
Whether you're interested in our Transport services or you want to find one of our experts, we'll put you in touch with the right team.